A high-purity and natural marine bioactive, fucoidan has a rich history of medicinal and therapeutic uses with existing studies showing benefits across multiple areas of health and wellness including gut health, immunity boosting and cardiometabolic health[1]. OCEANIUM is harnessing the natural protective mechanisms of seaweed to create OCEAN ACTIVES® Fucoidan, a clean label ingredient for food, beverages, and supplements. Based on in vitro trials conducted by ProDigest, OCEAN ACTIVES® Fucoidan can deliver wide-ranging health benefits.
Supports gut health and increases the quantity and variety of microbiome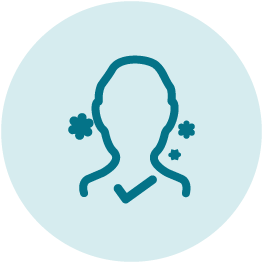 Improves immune response and modulation
 Supports cardiometabolic health
A high-purity (75%+) marine bioactive which has benefits across multiple areas of health and wellness.
Extracted from sustainable and scalable source of seaweed.
Water-soluble – easy to integrate into formulations as an ingredient.
Backed by expert R&D and robust scientific claims.
A truly holistic ingredient that has internal and external health benefits.
For more information on OCEAN ACTIVES® Fucoidan, the ProDigest studies and results, and to request samples please contact us at [email protected]
A powerful high-purity bioactive in the form of a water-soluble powder, excellent for various health and wellness applications: 
Health supplements
Food ingredient
Beverage ingredient
OCEAN ACTIVES Fucoidan has GRAS status in the US. 
Harness the natural resilience and protective mechanisms of seaweed.
Utilize OCEANIUM's green processing technology.
Meet demand for sustainable and clean label ingredients
Replaces resource intensive products and materials.
Are sourced from regenerative seaweed farms providing excellent traceability, transparent supply chains and provenance for consumers.
Contribute to the health of our oceans- providing a value-added story for impact-conscious consumers and helping brands meet their sustainability goals.
[1] Kanitsoraphan, C., Rattanawong, P., Charoensri, S. et al. Trimethylamine N-Oxide and Risk of Cardiovascular Disease and Mortality. Curr Nutr Rep 7, 207–213 (2018). https://doi.org/10.1007/s13668-018-0252-z