OCEAN ACTIVES® Fucoidan is a fucose-rich sulfated polysaccharide that is found primarily in the cell walls of brown seaweeds. Fucoidan provides an array of health benefits and can be used in a range of cosmeceutical and nutritional applications. OCEAN ACTIVES® Fucoidan is a water-soluble powder, applicable across multiple product formats.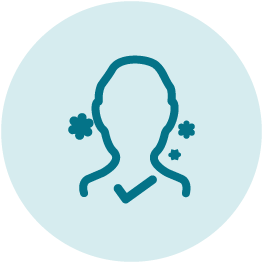 Improves immune response and modulation
 Supports cardiometabolic health
OCEAN ACTIVES® Fucoidan is a water-soluble, non-odorous powder which can be used in a variety of nutritional applications. With existing studies showing fucoidan's ability to support gut, immune, and cardiometabolic health, fucoidan is an exciting emerging ingredient for the health supplement market. OCEANIUM is currently conducting external in vitro studies which will be followed by human studies to support collaborations with science-backed health supplement brands.
Restores: reduces aging effects
Calms: exhibits calming properties and reduces redness
Protects: enhances the skin barrier and moisturizes the skin
Seaweeds have been used for millennia for their restorative and protective properties in skin health. The naturally-occurring fucoidan is a powerful bioactive ingredient in the form of a water-soluble, non-odorous powder, with benefits to include in any skincare formulation targeting skin barrier protection and reduced aging and redness. While these properties have been shown in previous external studies, OCEANIUM is also conducting studies through accredited contractors.