We have made tremendous progress on all fronts since Oceanium was formed in 2018 – thanks to our passionate, dedicated and just plain brilliant team of Kelpers. We work hard, think creatively, have impact!
Karen Scofield Seal
CEO & Co-Founder
Karen has 25+ years of strategic planning, partnership development, brand building and marketing communications experience in New York and London with organisations including (RED), Comic Relief, NFL and USTA. Prior to co-founding Oceanium, Karen was founder of LUCZA, an international ecommerce business.  Karen was a finalist in The Economist's Women and the Ocean: Changemakers Challenge. Most importanly, Karen is passionate about ensuring the seaweed industry grows in a sustainable manner.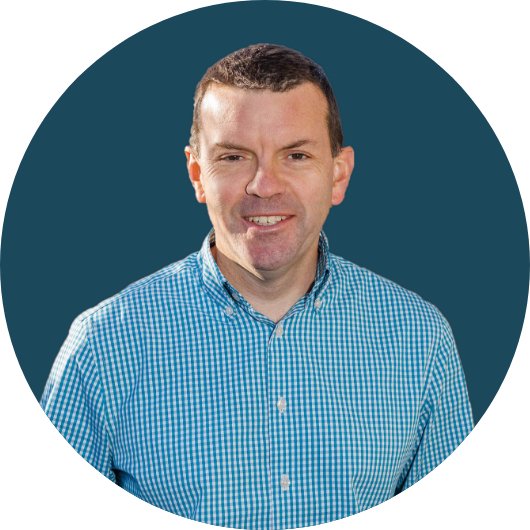 Dr. Charlie Bavington
CTO & Co-Founder
Charlie has a Ph.D. BioChemistry from Edinburgh University and over 20 years of experience in marine biotechnology research & development taking products from conception through to pilot trials. Prior to Oceanium, Charlie founded Glycomar, a biotechnology company focusing on research and development of marine-based products for the healthcare, pharma, personal care and nutritional markets.   Charlie is an inventor on 5 patents and author of 15 peer-reviewed research papers and book chapters.
Andy Wilkinson
Chief Operating Officer
Andy has had an extensive career in the Agri-foods sector with senior executive positions at Cargill and Bunge prior to joining Oceanium. Andy holds degrees in Chemical Engineering and a Master's in Occupational Psychology. Andy enjoys applying his experience and cultural best practices to an emerging innovative and sustainable industry .
John Seal
Chief Financial Officer
John is an experienced investment manager with 25+ years of experience in finance. Prior to Oceanium, John was Head of Direct Lending at Aberdeen Standard Investments. John co-founded and was MD of New Amsterdam Capital (NAC), a boutique investment firm. John has raised capital, advised and invested in startups as since 2010.
Dr. Ian Vallance
Material Innovation Scientist / Project Manager
Ian has a PhD in Chemistry and is an Industrial Material Scientist with more than 30 years experience across a broad range of industries, covering large scale petrochemicals to small scale biomedical. Throughout his career he has successfully worked with a wide selection of both natural and synthetic polymers toward the development of products, as well as processes.
Joanne Robinson
Scientist/Project Manager
Joanne holds a joint honour's degree in Immunology and Pharmacology from the University of Strathclyde. Joanne has over 10 years industry experience developing and screening marine based products for commercialisation and she has worked in academia at the University of Dundee.
Ron Pirrie
Microbiologist/Process Scientist
Ron spent his early years as a microbiologist at sea as a bacterial culture collections scientist. After a move to Argyll and a brief foray into quality management he returned to the lab bench – working with marine polysaccharides, including 15 years at Glycomar, before moving to Oceanium and focusing on seaweed-based products.
Andre Rastica
Research Scientist /Project Manager
Andre has a Master's in Biotechnology and a first class Bachelor's degree (Hons) in Biochemistry and Microbiology from the University of Strathclyde.  Andre has a keen interest in the environment, sustainability, and circular economy.
Thomas Grant
Process Engineer
Thomas holds a first class Master's degree in Chemical Engineering from the Heriot-Watt University. He has over three years of industrial and client facing experience gained from working for a global engineering consultancy firm. Having grown up on the Shetland Islands, Thomas has a strong connection to the ocean and his career at Oceanium fits well with his values for sustainability.
Jessica Thorne
Marketing and Impact Manager
Jessica is an On Purpose associate on placement with Oceanium; On Purpose is a year-long programme matching individuals with impact-driven organisations. Jessica spent six years at London Stock Exchange Group in government relations and strategy roles, has worked for the UK Government's Department for International Trade in China and has a Master's in Conflict Resolution in Divided Societies. 
Peter Gibson
Office Manager
South African by birth, Peter brings great experience in operational and people management gained through a career in the Armed Forces in Africa and the UK, haulage and logistics, and the last five years in hospitality general management in the Scottish Highlands, with expertise in customer services, HR, health and safety, food safety management and process development. Peter is always here to kelp.
Robert Childs
Process Engineer
Rob holds an Integrated Master's in Chemical Engineering from the University of Strathclyde. With a keen interest in the environment and sustainability, Rob has previously co-founded a vegan initiative group which gave vegan food to thousands of people for free. In his spare time he likes playing chess and at the age of nine he competed for Scotland at the World Youth Chess Championship. 
Saira Haque
Food Safety Manager
Saira has over 10 years of technical experience in the food manufacturing industry and scientific laboratories. She previously worked as Site Technical Manager at Nolan Seafood UK Ltd and Scotbeef Ltd. Saira has a Master's degree in Nutrition & Food Sciences from the University of Huddersfield and is delighted to apply her technical knowledge and industry experience to the emerging seaweed industry.
Steve Demos
Steve is a recognised and respected organic food pioneer and a leader in "right livelihood" business practices. He was the co-founder and former president of White Wave Foods – the largest producer and marketer of soy and non-dairy beverages in the US, sold to Danone in 2016 for $10.4 billion. Steve then went on to co-found NextFoods; developing and marketing functional foods and products that have scientifically proven nutritional benefits. Steve is now retired and living the dream in the Costa Rican rainforest.
Stephanie Lind
Stephanie is the Chief Strategy and Business Development Officer of Elohi Strategic Advisors, a firm she founded in early 2015. She works closely with emerging natural and sustainable food and beverage companies, as well as their venture capital and private equity investors. Before returning to Elohi Strategic Advisors in January 2019, Stephanie led the global sales initiatives for Impossible Foods. She has impressive experience, spanning over 25 years working for Fortune 500 companies like PepsiCo, Sysco, McDonald's as well as small, privately owned businesses.
Jeff Davison
Jeff is an investor with Green Angel Syndicate and joined the Board as a Non Executive Director following Green Angel Syndicate's participation in Oceanium's Seed II fund raise. Jeff's career has been in the marine environment focusing on energy and sustainability, and he has lived and worked in some of the most environmentally sensitive locations around the world. In addition to an investor's perspective, Jeff brings experience of capital project definition, delivery and safe and environmentally respectful operations.
Michael Orye
Michael is Regional CEO for Faerch, a European packaging company on a mission to make food packaging circular. He brings a wealth of experience from the packaging industry where he has worked for over 20 years in various leadership roles, including 17 years with global packaging leader, Amcor Ltd. Michael has lived and worked in four continents: Asia, America, Europe and Africa, and currently calls the Netherlands his home.
Oceanium is an exciting, growing business. Open job positions are posted below. 
At Oceanium, we recognise the value of a diverse team and we are committed to and encourage applications from people with varied experiences, perspectives and backgrounds.
Thank you for your interest in Oceanium, and we look forward to hearing from you.